Congratulations to Linux for being on the way to beating even
the large soft drinks companies when it comes to
positioning a brand on everybody´s
lips.
Let jernet.dk´s Linux Lounge be your one-stop shop for information
on the open source construct with the cute logo and
the true-to-its-(grass)-roots slightly geeky
image.
(When you´ve stopped here once, you probably
won´t stop here again, hence the one-stop
concept...)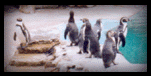 As for the actual operational wonders of Linux, please see your
local developer. She (or, alas, he...) will readily rant for hours
about the system´s blessings, and will be able to help you
order the t-shirt, the mug, the mouse pad and the
huggy penguin which you are, regrettably, yet
unable to purchase via jernet.dk´s
Linux Lounge.
Find out more at
www.linux.org
© 1999-2004 Morten Müller All rights reserved